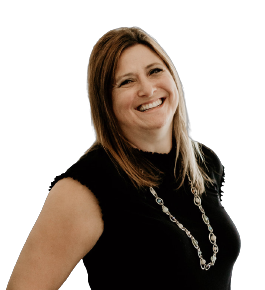 Amanda brings knowledge and experience with a successful record in sales, referrals, and service. With over 11 years of service in New Construction, including National Sales Awards from US Home, Lennar Corporation and The Drees Company, she has formulated a plan to help you achieve your success in selling your home or finding a new one. Her expertise is in listening to buyer's and seller's needs, wants, and wishes. She then helps them formulate a plan for their next step in achieving their goals for a home.
Amanda is a designated REALTOR member of the National Association of REALTORS®, member of the Ohio Association of REALTORS®, and member of the Cleveland Akron Board of REALTORS®
Amanda is a long time resident of Northeast Ohio, recently moving to Broadview Heights from the Old Brooklyn neighborhood of Cleveland. When she is not working her Real Estate business, she enjoys spending time with her husband and three children. Activities that they enjoy together are camping, visiting local museums, and cooking. Amanda also likes to read and to help her children with their passions, including dance.
⭐⭐⭐⭐⭐
My husband and I have worked with Krystal and her team on multiple occasions from buying to selling and even renting out properties. The customer service provided can't be matched! You can always count on staying informed throughout any transaction. I've always asked and trusted in the professional opinions given and have never walked away unhappy from a deal. Check them out, you won't be disappointed.
Jacqui Prock
Parma, OH
⭐⭐⭐⭐⭐
We have found our PERFECT first home with KORE! We can't thank the KORE team enough for their patience, time, and support during this process!!! We will be sure to recommend the KORE team to all of our family/friends looking to move!! 💜
Brittany Medlong
Parma, OH
⭐⭐⭐⭐⭐
Amanda Bundy and the KORE Team are absolutely amazing! They were very helpful finding our first home. I can't recommend them enough!
Seth Medlong
Parma, OH
⭐⭐⭐⭐⭐
Amanda helped us in finding a new home and selling our current one. She was always in communication with us and went above and beyond in both processes. I would highly recommend her and her company in any real estate transaction.
Chris Salem
⭐⭐⭐⭐⭐
Amanda was available at all hours of the day. I appreciate her assistance with the mortgage process with Huntington National Bank, Allegiance Title Company, and the transfer of keys. Great job and customer service!
Linda Pawlowski
Brunswick, Ohio
⭐⭐⭐⭐⭐
Amanda was better than we could have ever hoped for! From the start, she made us feel welcome and important; not just to the Kore Team as clients, but to her personally as friends. It was a long and difficult process for us as first time home buyers with no experience and somewhat lacking purchasing power to start with. She stuck with us and helped us the whole way through. She went out of her way for us so many times, between finding time for us even with our odd schedules and making sure we were comfortable and informed. She had an answer to nearly all of our questions, and had an expert in her pocket for those she didn't. Her responses were always nearly immediate, regardless of time. She was also one of the most positive and reassuring people I have ever met with a wonderful sense of humor and endless patience. We cannot thank her enough for everything she has done for us. Should the time come for us to upgrade to a larger home, we will absolutely come to her again! And thank you to all of The Kore Team! It was a pleasure working with you all!
Shanyn Fallon
Cuyahoga Falls, OH
⭐⭐⭐⭐⭐
When I first started looking for a new home I had no idea how important a realtor would be to me. I worked primarily with Amanda Bundy. I cannot express how invaluable she was to me on my journey as a first time home buyer. We met by happenstance in late October. I told her about my plans to move in the early spring. I mistakenly thought I had months before I needed to start preparing. She encouraged me not to wait and to meet with a loan officer as soon as possible. On her recommendation, I met with an amazing team of mortgage specialists and was pre-approved! Soon after that, we met again and discussed what I thought I wanted, and explained the process so I knew what to expect along the way. Then began the fun of looking at houses. Without her constantly helping me clarify and prioritize my wants and needs, there is absolutely no doubt in my mind I would not be now about to move into the perfect new home for me and my family. I received personalized, prompt, and expert service from everyone at Stouffer Realty. I highly recommend them to anyone buying or selling!
Stephanie Knirnschild
Parma Heights, OH